In our previous article, we covered software for convergent systems available with Manjaro Phosh on the Pinephone Pro. In this article, we will review options for chargers, hubs, keyboards and monitors.
Pinephone Pro Accessories
Pine 64 sells several accessories for the Pinephone Pro. Click on this link to see them:
https://pine64.com/product-category/smartphone-accessories/
Here is a list:
Pinephone Battery Charger is only for the Pinephone – not the Pro!
Pinephone USB C Docking Bar also only for the Pinephone and is only USB 2 – while the Pinephone Pro can use USB3!
Pinephone USB Keyboard $15 this appears to work with the Pinephone Pro but there are some reports of some keys not working.
Keyboard with screen mount $50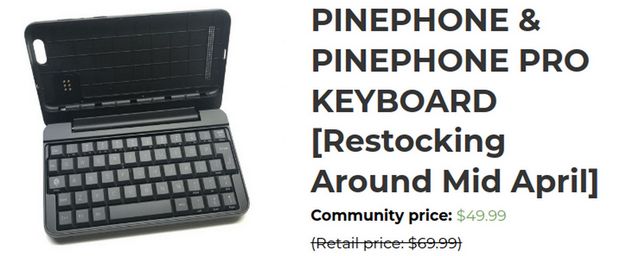 This is compatible with the Pinephone Pro but again there are some reports of some keys not working. It is also compatible with Manjaro Linux operating system. Comes with an internal battery capable of charging the Pinephone Pro. However, while running the battery appears to still be discharging. The keyboard is very small – too small in fact for big clumsy fingers! Finally, it has trouble going from a vertical portrait mode to a horizontal landscape mode. ! I therefore do not recommend any of the Pinebook Pro accessories. Instead, we will look for other compatible products.
Buy a Real Charger… Anker and or Belkin
Sadly, the Pinephone Pro does not come with a real charger. It just comes with a red USB 3 to USB cable. Many folks mistakenly think that all they need to do is use the red cable to plug their Pinephone Pro into their laptop to charge it. Because laptops were never meant to be chargers, the connection actually drains the Pinephone Pro battery instead of charging it. The Pinephone Pro will then not even start if the battery is dead!
When you first open the box that the Pinephone Pro comes in, there will just be the phone, a USB C to USB cable and some instructions. One might guess that the USB C to USB cable is for charging the Pinephone by connecting it to the USB port of your laptop. However, if you go to the Pinephone Forum, you will see lots of folks complaining that their laptop USB port was not capable of charging their new Pinephone. Instead, the charge ran the other way and the Pinephone battery was drained – in some cases bricking the Pinephone completely!
In the Pinephone Pro box are some instructions written in Size 1 font. It is useful to have a magnifying glass to read these instructions. Among these instructions, it states: The Pinephone Pro should be charged with a 15 watt 5 volt 3 amp USB PD power adapter.
Note that normal USB C wall chargers are only 5 watts – not enough to charge the Pinephone Pro – which when running can take up to 10 watts. Also when the phone is turned on, the power goes mainly to the phone and not to the battery. Supplying power to the phone's runtime needs has priority over charging the battery. This means that if the limit is higher than what the phone needs, then the rest of the power can be used to charge the battery. Therefore, it is best to get a charger that is more than 15 watts (of which 10 watts will go to the running phone) – but not too much more. Here it is important to look for a Power Delivery Smart charger – also called a PD adapter.
The solution to this problem is to get a real charger. The problem here is that some chargers do not supply enough power while others supply so much power that they can permanently harm the Pinephone Pro. Go online and you will see that there is no such thing as a 15 watt 5 volt 3 amp USB PD power adapter! The closest adapter options are a 12 watt, 18 watt or 20 watt. After further research, it appears that some adapters can recognize a 5 volt 3 amp device and turn the watts down to 15 watts – even though their maximum output is much higher. Anker is one such brand. Here are some quotes from their literature:
The Anker PowerPort PD2 is only a USB Power Delivery 2.0 charger. It can output 3 amps at 5 volts but has a maximum voltage output of 9 volts, compared to the 20 volts of the PD 3.0 chargers.
Anker - Powerport PD Nano 20W USB-C Wall Charger – White $18 – but it does not come with the USB-C to USB-C cable – which is $16 more for a total cost of $34.
Anker - Powerport PD Nano 30W USB-C Wall Charger What You Get: Anker Nano (PowerPort III Nano), comes with a 3 ft USB-C to USB-C cable. Total Cost $50. Here is a link to the final two options:
https://www.bestbuy.com/site/anker-powerport-pd-nano-20w-usb-c-wall-charger-white/6447411.p?skuId=6447411
Here are images of the final two options: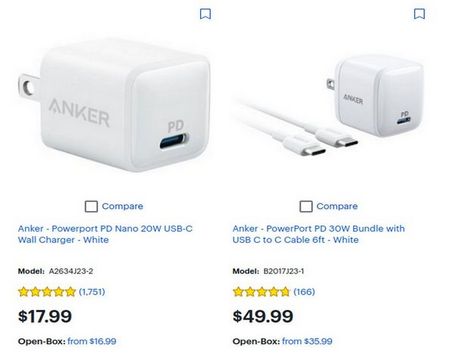 Bilken 15 watt 5 volt 3 amp USB PD power adapter
Belkin is another good option. Belkin makes a USB C Car charger that plugs into the car electrical port and outputs a maximum of 15 watt 5 volt 3 amp. The cost is $30 and this is a good option for keeping your Pinephone Pro charged while in your car.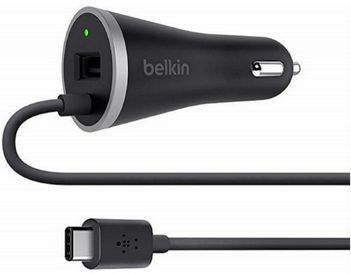 Belkin also makes a 20 Watt USB C Wall charger for $17.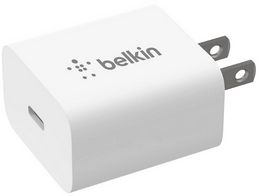 As with Anker, Belkin uses intelligent charging to match the needs of the device. Thus, even though it is a 20 watt charger, it will only charge 15 watts on the Pinephone Pro. The same is true of the Belkin 25 watt and 30 watt chargers. Note that you may need to let the phone charge overnight to fully charge the battery. Also, if you completely discharge the battery, you may need to follow special instructions for charging it as described on the Pinephone forum.
Extra Batteries
The battery for the Pinephone Pro is a removable Li-Po 3000 mAh battery. The problem is that there are many models of LiPo 3000 mah batteries! I therefore recommend getting the extra batteries directly from Pine 64. Click on this link: https://pine64.com/product/pinephone-lithium-battery/
The batteries are only $10 each. Sadly the batteries are out of stock and no word on when they will be back in stock.
Anker Power Bank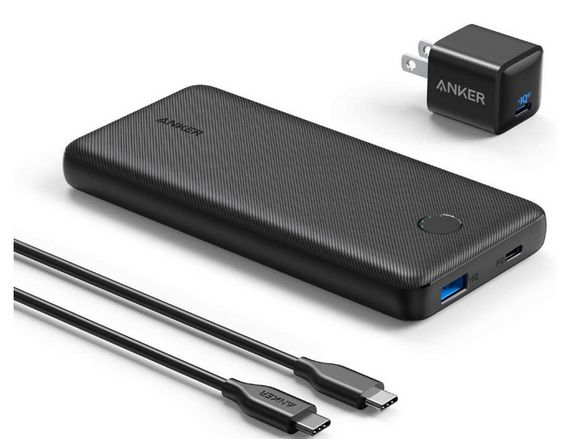 Anker Portable Charger, 313 Power Bank (PowerCore Slim 10K) 10000mAh Battery Pack with High-Speed PowerIQ Charging Technology and USB-C (Input Only).. provides about two charges. Anker's exclusive PowerIQ and VoltageBoost technology combine to detect and deliver a tailored charge up to 12W, while the trickle-charging mode is the best way to charge low-power devices.
$22 (or $40 for 20 watt version that charges faster)
The power bank can help keep your Pinephone Pro charged a couple of days even if you are not near your home or your car.
Micro SD Card Recommendations
While the Pinephone Pro comes with a 128 GB Emmc hard drive with Manjaro and Plasma Mobile installed, there could be problems if this drive gets corrupted. It is therefore recommended to use a Micro SD card instead of the Emmc drive. Some advocate killing the Emmc drive permanently. However, I recommend keeping it as a backup and simply pressing down on the power button for 5 to 10 seconds to boot from the Micro SD card. This you should buy at least one Micro SD card. I bought three of them to allow me to install and test three different operating systems just by swapping the SD cards. For convergence, look for a fast Class 3 card that is at least 128 GB.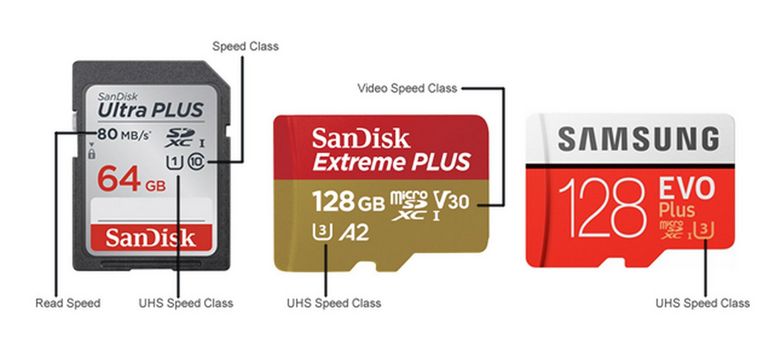 Look for a card with a read speed of 150 MB/s. 170 is even better: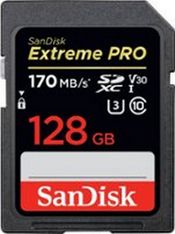 It is also wise to get a card rated as A2. A fast MicroSD card will cost about $20 to $40. Get two in case one is borked.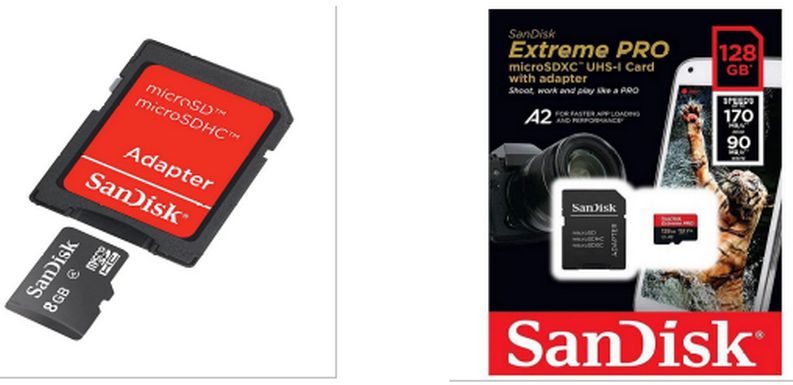 Make sure you get a Micro SD card with an SD adapter and not just a standard SD card (see examples above).
Pinephone Pro Docking Station aka docking hub
With a hub, you can connect the Pinephone Pro to an external monitor, an external keyboard, an external mouse, external speakers and even to an Ethernet cable – meaning that you can use your Pinephone Pro as a computer phone combination. You can create and store documents, watch and download videos and even edit photos. It is therefore better thought of an a mini-computer that you can also use as a phone.
Because docking hubs do not use drivers, it is likely that almost any USB 3 hub will work. However, the best choice is to get a hub with a USB C output cable to hook into your Pinephone Pro Power Out port and a USB C power out port to hook into your USB C charger we reviewed earlier. The hub or docking station should have at a minimum a micro SD slot, an SD slot, an Ethernet port, an HDMI port and three USB ports. I am using a J5 Create Hub from Best Buy about $40. Anker Model 341 USB-C Hub (7-in-1) with USB 3.0 to Ethernet Adapter would also do the job. It sells for about $50.
Keyboard Recommendation
Most keyboards have drivers that only work with Windows computers. There may be Linux drivers available for some Logitech keyboards. Best Buy has a simple keyboard with a USB A cable to connect the keyboard to your computer —no drivers required. The cost is only $13. Here is the Model number and link and image: BE-PKWDKB Full-size Wired Membrane USB Keyboard
https://www.bestbuy.com/site/best-buy-essentials-be-pkwdkb-full-size-wired-membrane-usb-keyboard-black/6434813.p?skuId=6434813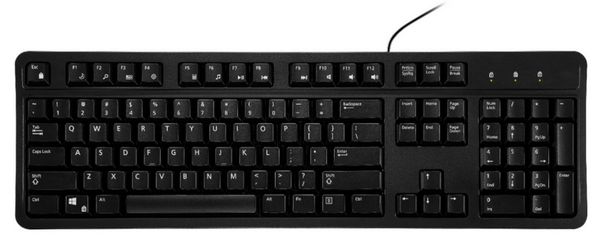 Monitor Recommendations
Technically, a monitor is not needed. Once you have a docking hub and a keyboard and mouse, you could use the Pinebook Pro for your monitor. But if you really want convergence, you should get a real 15 inch wide monitor. There are hundreds of options. The most important factor is to get a monitor that works with Linux ARM, commonly called a Raspberry Pi monitor. Some monitors like the one shown below have their own docking hub where the wall charger goes into the monitor and then the Pinephone Pro is attached to another USB C port on the monitor. On the opposite side will be two USB ports to attach a keyboard and mouse.
If you plan on only keeping your phone in one place, you can get one of several larger monitors. But these can be heavy and bulky. Therefore a better option for most people is to get a smaller 15 inch monitor. These are under 2 pounds and should include a protective carrying case that doubles as a monitor stand. These monitors only need about 10 watts of power. After looking at more than two dozen of these "portable" monitors, some offered more connectivity options than others. Also only some came with speakers. And only some came with a 1080p high resolution screen. And only some worked with Linux ARM. Also only some came with protective covers.
Here is and example of the protective carrying case that comes with some portable monitors: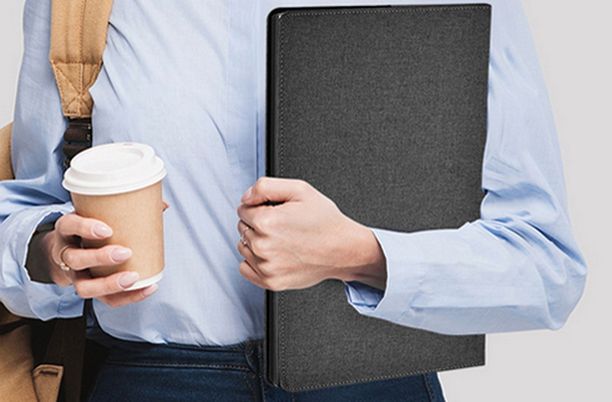 Why you should seek out a Monitor with its own internal battery
The biggest weakness of the Pinephone Pro is that it is difficult to get it to work again if the battery is ever allowed to completely discharge. The recovery process is complex and not very dependable. If your monitor does not have its own internal battery, it can and will drain power from your Pinephone Pro in the event of a power interruption (power cord comes loose) or a power outage (perhaps while you are sleeping). Getting a monitor with its own power supply will not only protect against this problem, but the monitor will actually be able to charge the Pinephone Pro for three to six hours in the event of a power outage.
Sadly, there are only a few monitors that come with an internal battery. This is because the battery adds about $50 to the cost of the monitor and nearly one pound to the weight of the monitor (making the monitor about 3 pounds instead of about 2 pounds).
Here is a link to the monitor with the longest lasting battery: https://www.uperfectmonitor.com/products/battery-portable-monitor-15-6-touch-screen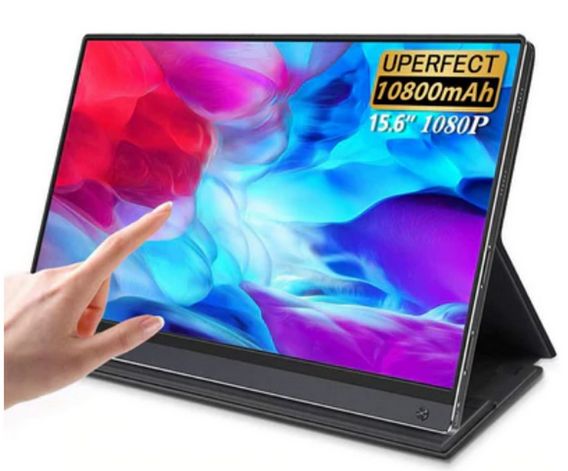 The cost is $330. However, you can get up to 20% off by spinning a discount wheel that comes up when you leave the page. I got mine for $270 plus free shipping. The battery in this monitor is 10,800mah (milliamps per hour) which is much more than the remaining options all of which are 7800 mah. In addition to the touch screen, the monitor comes with 4 watt speakers and also can operate in either landscape or portrait mode: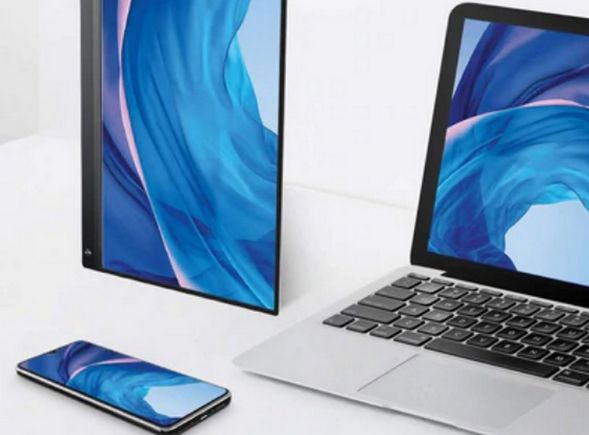 There are only a couple of other options that come with a monitor battery. Here are their names and links:
AOC 16T2 15.6" Full HD (1920 x 1080) Touch-enabled portable IPS monitor, USB-C and Micro HDMI inputs, Built-in battery, Stereo speakers, SmartCover, AutoPivot, VESA.
https://www.amazon.com/AOC-16T2-Touch-enabled-SmartCover-AutoPivot/dp/B08FJJJ5H8?th=1
$275 7800mAh battery for 2 to 3 hours of use
Portable Touchscreen Monitor, PEPPER JOBS XtendTouch 15.6" FHD 1080P USB-C Extender with Quad Speakers, Built-in Battery, Compatible with Laptop, Switch, PS4,PS5(15.6",Built-in Battery
$289 7800 mAh battery for 2 to 3 hours of use
ASUS ZenScreen MB16AMT 15.6" Full HD Portable Monitor Touch Screen IPS Non-glare Built-in Battery and Speakers Eye Care USB Type-C Micro HDMI w/ Foldable Smart Case
https://www.amazon.com/Zenscreen-MB16AMT-Portable-Non-Glare-Speakers/dp/B07WC2NL2G?th=1
$370 7800mAh battery for 2 to 3 hours of use
ASUS ROG Strix 15.6" 1080P Portable Gaming Monitor (XG16AHPE) - Full HD, 144Hz, IPS, G-SYNC Compatible, Built-in Battery, Kickstand, USB-C Power Delivery, Micro HDMI
https://www.amazon.com/ASUS-Portable-Gaming-Monitor-XG16AHPE/dp/B08QV1FHWK?th=1
$400 7800 mAh battery for 2 to 3 hours of use
Model with batteries and key board
UPERFECT 15.6'' Touchscreen W/Battery USB C Monitor, Travel Monitor W/Detachable Keyboard & Touchpad
Built-in 10000mAh Rechargeable Battery Travel Monitor】: Built-in 10000mAh battery can not only provide power for the monitor, but also reverse power for your other devices.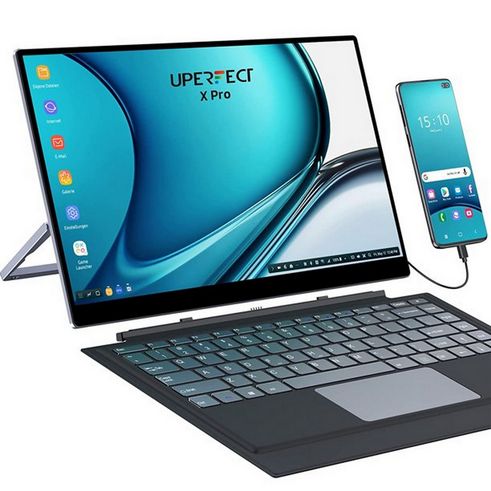 https://www.walmart.com/ip/UPERFECT-15-6-Touchscreen-W-Battery-Frameless-Bezel-USB-C-Monitor-HDR-FreeSync-Eye-Care-Travel-Monitor-W-Detachable-Keyboard-Touchpad/434891362?athbdg=L1700
This one comes with a keyboard that attaches to the monitor and acts as a protective case. $460 at Walmart.

Buy a Longer USB C to USB C video cable
One concern about all of the previous models is that the USB C to USB C Video cable that connects your phone or laptop to the monitor is not very long. Sadly, an ordinary USB C to USB C cable will not carry video. Therefore, if you want the monitor at the opposite end of a table such as in a conference room, so that several people can see it at the same time, you should buy a long video cable. Here is a link to a 10 foot video cable that costs $19.
https://www.amazon.com/gp/product/B09VDDLXSD/ref=ppx_yo_dt_b_search_asin_title?ie=UTF8&th=1
USB C to USB C Cable 10Ft, QCEs USB-C 3.2 Gen 2 Cable 4K Video 20Gbps 100W PD Fast Charging Cable
What's Next?
Get your charger and MicroSD card. In the next article, we will install Manjaro with Phosh to the Pinephone Pro.